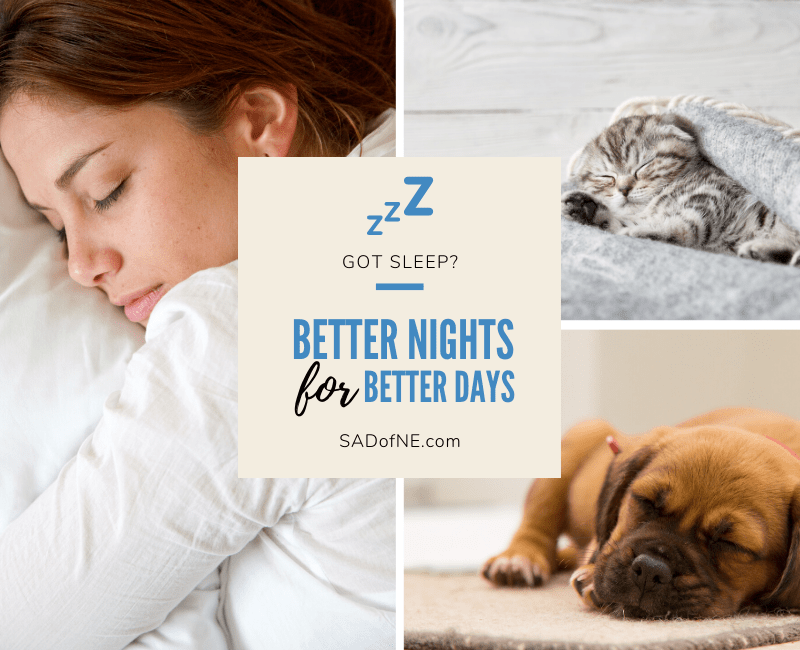 What is Better Nights for Better Days?
Here at Sleep Apnea Dentists of New England, our goal for 2020 is to help sleep apnea sufferers experience better nights of sleep. When our bodies are able to experience good sleep, our days become better. Everybody understands the correlation between a good night's sleep and our ability to function throughout the day.

Just like Nancy, a good night's sleep is a must – in order to survive the daily grind of work and life. If the body does not get enough quality sleep, that is problematic. What many people do not realize is that a lack of sleep, on a consistent basis, comes with long-term health consequences that include:
Irritability
Memory Loss
High Blood Pressure
Obesity
Diabetes
Hypertension
Heart Disease
Alzheimer's
Shortened Life Expectancy
Weakened Immunity
Anxiety
Depression
How to Get A Better Night's Sleep
Here at Sleep Apnea Dentists of New England, we treat people who have a diagnosis of Sleep Apnea and have or have not tried using the CPAP machine.
While we can't give you back the sleep you have lost, we can work with you and your physician to help you finally get the rest you (and perhaps your bed partner) so richly deserve. Our promise is to work hard to help alleviate the symptoms and limitations caused by this serious medical condition. We want to improve your quality of life by increasing every hour of restful sleep you get.
Follow #BetterNightsForBetterDays
Use the hashtag #betternightsforbetterdays when you wish to learn more about sleep apnea, obstructive sleep apnea, CPAP, oral sleep appliances, and quality sleep.
Sleep loss and sleep disorders are among the most common yet frequently overlooked and treatable health problems. Follow our hashtag and discover the correlation between sleep and your health. With improved sleep comes improved health. When your health improves, so does your quality of life.
Make a New Year's resolution to your own well-being. Connect with us today and start your New Year with a new YOU!
---
What have you got to lose? GETTING quality sleep and life is definitely worth the gain!